The ID-Scan is an analysis tool in which a 360 degree scan is made. This means that an organization is analyzed completely 'around' from different perspectives. The results from the ID-Scan provide you with important starting points. For example, you gain insight into which values ​​or cultural aspects are important to management and employees. And whether external relations also recognize this. At the same time, you learn from the scan which positive points within an organization can be further expanded.
What can you use the ID-Scan for?
The ID-Scan has proven its value for organizations in practice. The scan can be widely used for, among other things:
Acquiring insight into strategy and policy making
Guiding cultural changes within organizations
insights for leadership trajectories
Developing strategies for structural growth
Determining a brand identity and/or positioning
Realizing image improvements
Developing creative concepts (including interior)
Developing a sustainability strategy
As a basis for employer branding
As a basis for merger and acquisition processes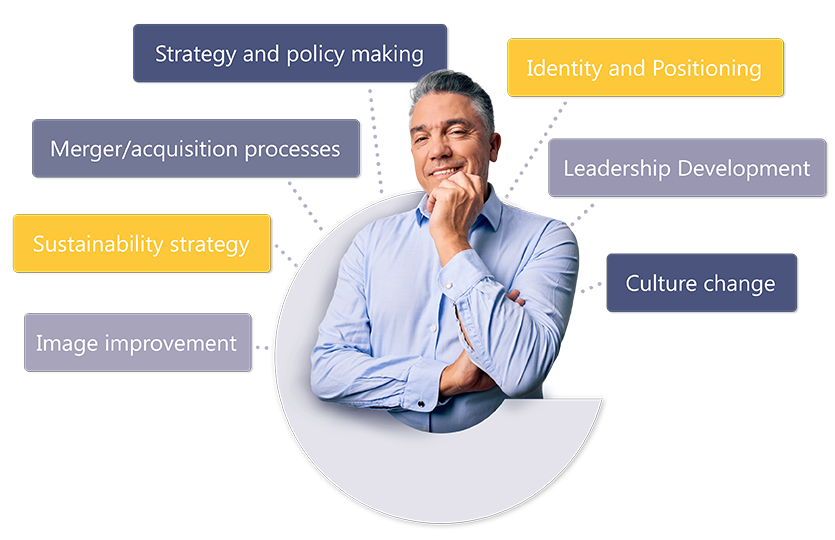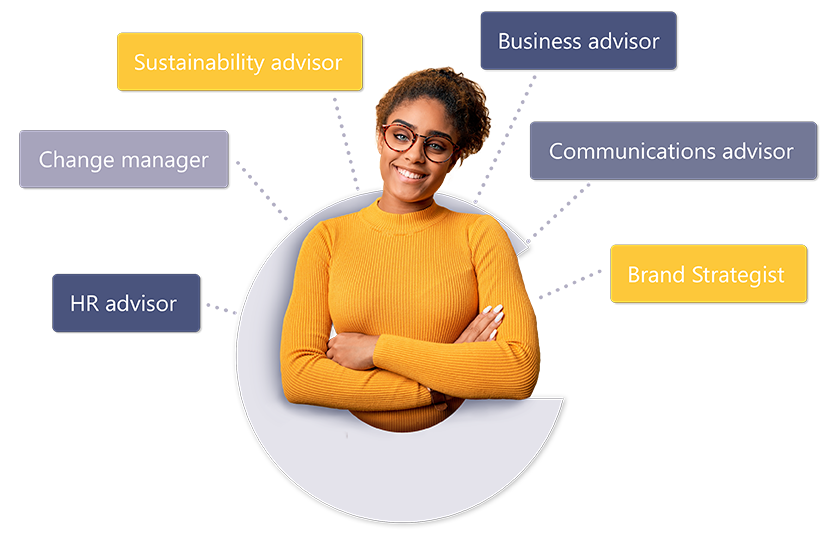 For whom is the
ID-Scan intended?
The ID-Scan has been developed for every consultant, advisor, strategist or creative who wants to base his customer advice on solid insights into the heart and soul of an organization.
Are you involved in giving advice, in whatever form, on a daily basis in your work? Then the ID-Scan can be the foundation you need to build up your advice.
It does not matter whether you advise an SME, a large corporate, an educational institution, an NGO or any other organization. The applicability of the ID-Scan is broad and industry-independent.
If you add this methodology to your advisory process, you will also increase your distinctiveness compared to your competitors.
The process in
five easy steps
As a partner you can exclusive use the ID-Scan. The following steps are taken with each new scan that you use:
In a secure environment in the cloud, the ID-Scans for the agreed target groups (management, employees, external relations) will be prepared. p>
You will receive the links to the ID-Scans. You can offer this to your customer by e-mail. With the links you will receive a text for an accompanying mail and a text for a reminder mail.
The entire process is automated. Persons who have completed the scan will automatically receive an e-mail confirmation.
All answers from the completed scans are collected in a database. They are analyzed and processed in a report. This will be sent to you as a partner by e-mail. The report is drawn up in BIC style and your company logo and contact details.
From here it's up to you! You now have the right basis to advise the customer in your own way based on your expertise. You are of course completely free to do so. The ID-Scan is the starting point for your personal advice.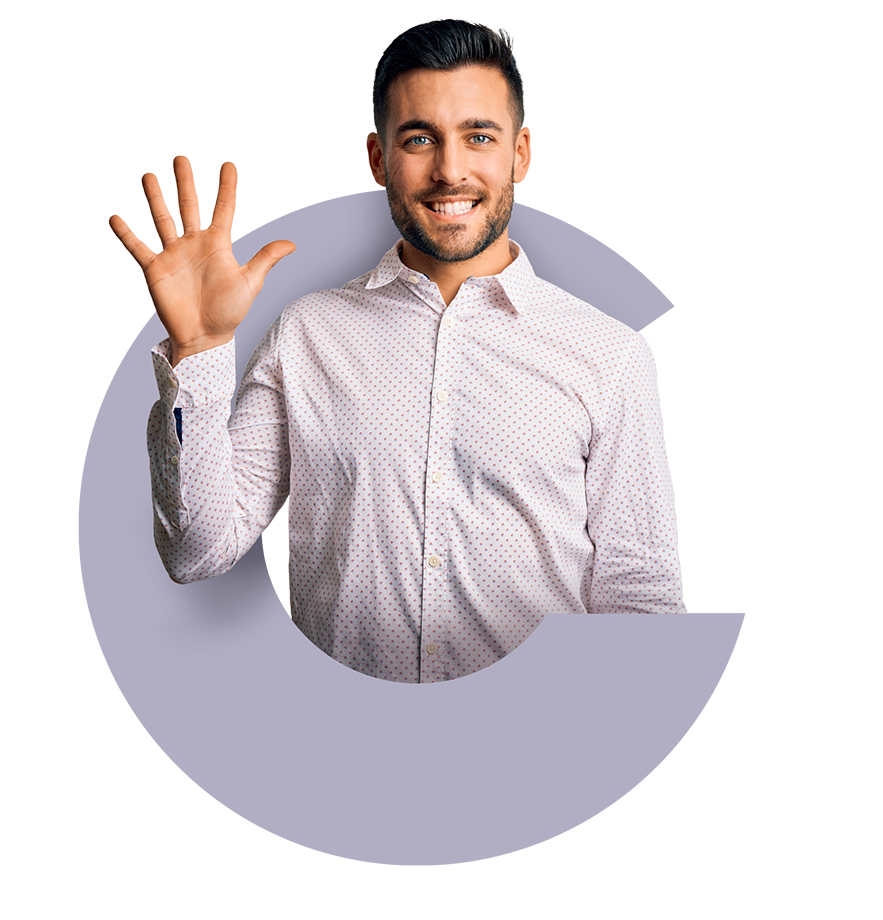 What insights do you get from the ID-Scan?
The insights you get from the scan are different for every customer, but always based on the Business Identity Canvas™. You can find out what an organization does and how they work, but more importantly you find out why they do what they do. You gain insight into the most important objectives of your customer. It shows your customer's ideal target audience, which customer needs the organization is currently fulfilling with their product or service and why the target group is buying it.
You will have a deep dive into the core of the organization by understanding the brand personality based on archetypes. You find out what the organization and its target group find important, and whether that actually corresponds. What does the organization promise to its target group, and do they deliver?
All of this, supported by where the organization can make an impact in a sustainable way (SDGs) and what the main barriers are, makes it an extremely valuable report.
Want to know what you get out of the ID-Scan?

Free ID-Quickscan
As a partner of the BIC Institute, you can offer your customers a free ID Quickscan. This is a shortened version of the extended ID-Scan. A maximum of 5 people within one organization can complete the ID-Quickscan.
The results are presented in a concise report. This free scan is a strong, accessible acquisition tool that you can place on your own website and/or social media channels.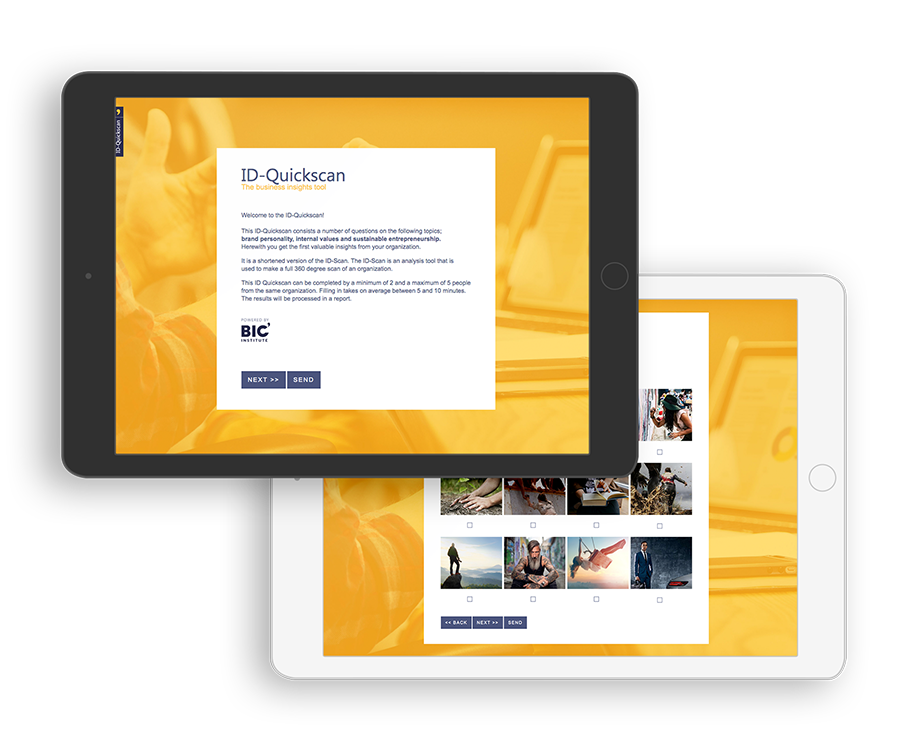 Interested in a demo?
Call us and discuss the possibilities!